Nieuwe trainer voor duo Stubbe / van Iersel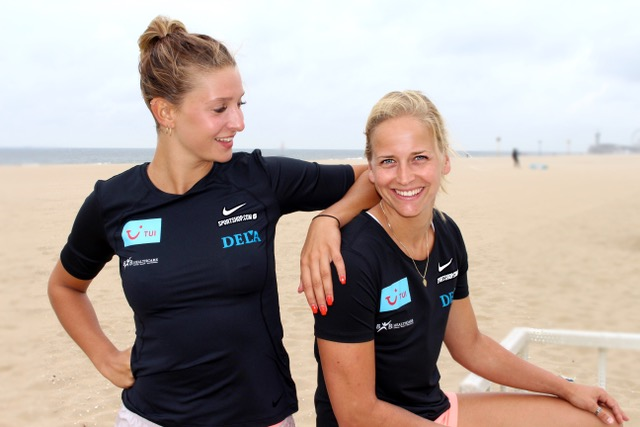 VoV, 05-11-2018. 12:05 uur. Beachvolleybal Team Stubbe / van Iersel gaat de komende 2 jaar verder met de Spaanse Beach Volleyball trainer/coach Danny Rodriguez. .  Na het door privé omstandigheden stoppen van Braziliaanse coach Wesley Pinheiro in juli jl., startte de zoektocht naar een nieuwe trainer/coach die Joy Stubbe en Marleen van Iersel verder zou begeleiden in hun weg naar Tokyo 2020.
Na gesprekken met diverse andere potentiële kandidaten heeft het team gekozen voor een samenwerking met de Spanjaard. Rodriguez is o.a. verantwoordelijk geweest voor het Spaanse dames topteam Baquerizo  / Fernandez-Steiner en het Duitse mannenteam Erdman / Matysik. Met de trainer zijn woonplaats Tenerife heeft de Nederlands Kampioen een nieuwe uitvalsbasis voor vele trainingsuren in de buitenlucht.
De jarenlange ervaring van Rodrigeuz zal worden ingezet om met Stubbe en Van Iersel de komende jaren toe te werken naar optimale resultaten binnen de World Tour, een goede klassering op het WK in 2019 en het behalen van het podium tijdens de Olympische Spelen in Tokyo.
"We zijn ontzettend blij met deze samenwerking en zien in hem de juiste man voor ons eigen pad" aldus Marleen van Iersel. Binnenkort zal de samenwerking starten waarbij zowel in Nederland als op Tenerife wordt getraind. De eerste openbare optredens van het duo zijn het indoor NK in Aalsmeer (december) en het DELEA Beach Open in Den Haag (januari).
Dat het Nederlandse duo niet over een nacht ijs is gegaan blijkt wel uit de CV van hun nieuwe coach, die we in onvertaalde staat hieronder weergeven.
Originally from Tenerife, half Spaniard , half American ( USA). Born  and raised in Tenerife, mixed long periods in  the U.S.  ( Washington D.C.) since my mother and all my American family live there.  Studied Sports Sciences in the University of Madrid ( U. Europea) and Canary lslands ( ULPGC)
Started working with the Canaria Federation in 2002. From there  was hired as a coach in the Beach volley talent and  High Performance Center for Spain becoming the head coach of the program in 2006.  In 2009 started to work as a private coach with Lili and Elsa, since they had to leave the talent program because of age requirements, and with the 2nd Spanish National mens team ( Gacia Tomson / Ortiz).  In 2011 became Spain National Head Coach for Women.
2 times Olympic National Head Coach for Spain: London 2012 and Rio 2016
From 2016 until 2017 Head Coach of Schwaiger/ Schützenhöfer( AUT)
From 2011 until present: Spain National Head Coach for Women
2014 Bronce medal in Asian Championship 2014 with Kazakistan
2013 Silver Medal in European Championship finals with Liliana / Elsa
2013 Bronce Medal in World Championships Staro Jablonsky ( Ermand/ Matysik)
2012 to 2016 Head Coach of Ermand/ Matysik( GER) World ranked top 10 from 2012/2013 to 2015/2016
2012 Bronce Medal in European Championship finals with Liliana / Elsa
2006 until 2018: Head coach with Liliana / Elsa ( ESP) World Ranked top 10 from 2012 to 2017/201
2006 until 2009 Head Coach of Beach volley talent and high performance center for Spain
Bronce Medal U19 World Championships 2009 ( Menendez / Medina)
4º Place U19 World championships 2008. ( Jesus Castizo)
Silver Medal in U23 european Championship 2007 (Marco-Gavira))
Silver Medal in U21 World Championships 2007  Men (Gavira-Fernandez)
4º place in U21 World Championships 2007  Women (Lili- Elsa)
Bronce medal in European Championship 2007 under 18 ( Jesus Castizo)
From 2004 until 2006 coach of Beach volley talent and High Performance Center for Spain
gh @ VoV. Bron en foto via persbericht duo Stubbe / van Iersel.